Senin, 04/11/2019 14:10 WIB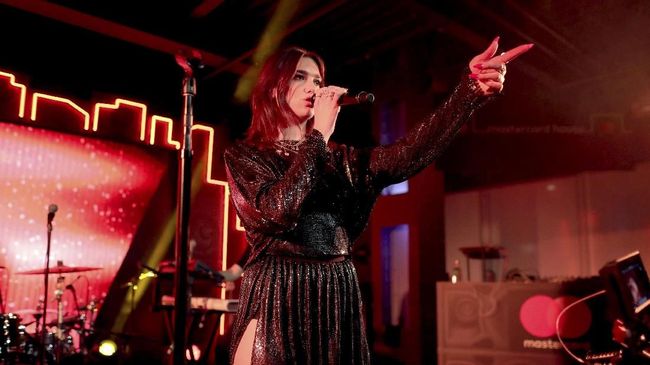 Dua Lipa hadir sebagai pembuka acara MTV EMA 2019. Ia membawakan lagu yang baru dirilis beberapa hari lalu, 'Don't Start Now'. Solois wanita tampak mendominasi panggung MTV Europe Music Awards (EMA) 2019 yang digelar pada Minggu (3/11) waktu setempat di Seville, Spanyol. Dua Lipa membuka acara tahunan ini dengan lagu terbaru Don't Start Now dengan ditemani banyak sekali penari perempuan yang memakai kostum ketat warna kuning.
Nama lain yang juga mengejutkan adalah penyanyi kelahiran Spanyol Rosalia. Ia mendapat sambutan ekstra meriah ketika menampilkan Di Mi Nombre, lengkap dengan 52 penari flamenco dan piramida yang dibuat dari susunan kursi warna merah.
Sayangnya banyak dari antara pemenang yang tidak hadir di MTV EMA 2019. Shawn Mendes, Taylor Swift, Nicki Minaj, Martin Garrix, sampai Billie Eilish menerima kemenangan melalui rekaman video. Ariana Grande juga terlihat absen. Ia yang memimpin peraihan nominasi dalam tujuh kategori ternyata tidak membawa pulang satu pun.
Vokalis asal Inggris yang kini bersolo, Liam Gallagher naik panggung untuk menerima kehormatan MTV EMA Rock Icon, di mana ia lantas membawakan lagu terbaru Once, dan karya klasik Oasis Wonderwall.
Berikut adalah daftar lengkap pemenang MTV EMA 2019.
BEST U.S. ACT: Taylor Swift
BEST CANADIAN ACT: Johnny Orlando
BEST VIDEO: Taylor Swift, Brendon Urie of Panic At The Disco – ME!


BEST ARTIST: Shawn Mendes
BEST SONG: Billie Eilish – Bad Guy

BEST COLLABORATION: Rosalia, J Balvin, El Guincho – Con Altura
BEST NEW: Billie Eilish
BEST POP: Halsey
BTS unggul di kategori Best Live dan Biggest Fans di MTV EMA 2019. (dok. Big Hit Entertainment via TikTok)
BEST LIVE: BTS
BEST ROCK: Green Day

BEST HIP-HOP: Nicki Minaj

BEST ELECTRONIC: Martin Garrix

BEST ALTERNATIVE: FKA twigs

BEST LOOK: Halsey

BIGGEST FANS: BTS

BEST PUSH: Ava Max

BEST WORLD STAGE: Muse: Bilbao, Spain 2018

BEST U.K. & IRELAND ACT: Little Mix (Social Wildcard Winner)
ROCK ICON: Liam Gallagher 
Sumber: https://www.cnnindonesia.com/hiburan/20191104092711-227-445349/daftar-lengkap-pemenang-mtv-ema-2019